SystemSettings
---
Introduction
MRE SystemSettings is a program to configure your system under AmigaOS; you are able to
start preference programs and edit config files,
view and change assigns and
view and change environment variables.
So it offers a fast and easy to use platform that ist not included in AmigaOS. And it is freeware!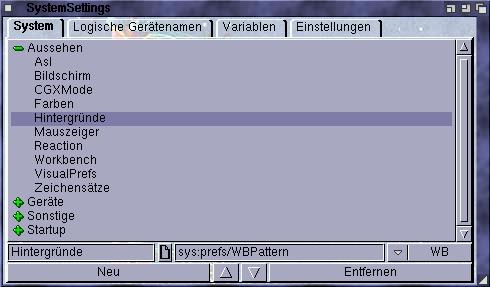 System requirements:
at least Amiga OS 3.5 (because SystemSettings uses Reaction; of course it will run on OS 3.9)
History
V2.20, 05.04.01:
some bugs removed, tested under OS 3.9 BoingBag 1!
assigns can be added/removed to/from user-startup
variables can be added/removed
nicer images for showing / hiding programs
new tooltypes: specify the position and size of the window
Changes since V2.05:
programs and files are handled in one browser
programs can be grouped and started via Workbench, AREXX, CLI
also dawers can be inserted
assigns and variables are only loaded when needed
assigns can be reloaded and sorted by name or path
assigns can be "opened"
appwindow functionality: drop files in the programs/assigns/settings page
ASCII-filter, "drawers first" and reload possibility for variables
entering values changed: with programs and variables, RETURN will accept the name/filename/value, to add a program click on "new" and then change its properties
MainPrefs is now compatible with HappyENV (the variables are not copied to ENV:, but the directories are created if you open them)
all variables can be edited with a text editor
new settings page with new option "save changes at exit"
improved asynchronous help
Changes since V2.0:
removed several bugs (no more "dh1:log", late assigns are now shown correct, "assign" with empty gadgets will no more reboot your amiga ... )
additional tooltypes "HELPFILE" and "PREFSFILE"
help key shows help, string gadgets can be cycled via TAB
Polish, Hungarian, Spanish, French and Turkish translation
Changes since V1.0:
added assign-management
changed the adding of files and programs
Italian translation
Download:
See also the MRE page for a locale archive of your language.
FAQ:
Please install the current version, look into the manual, then read the MRE FAQ and the following if necessary; if your problem is not yet solved, use the support formular.
Proposals for the next version:
Improved handling